There was a beautiful service that honored the Lord and the life of Jackie Odom on Tuesday, August 11, 2009 at Seagate Baptist Church. The Odom Family would like to thank all who attended and shared in the celebration of Jackie's amazing testimony for God. They would also like to thank everyone who called, e-mailed, sent cards or flowers during this time. Most importantly, the family received great comfort in knowing that Christ was glorified through Jackie's life and her death! May God bless you for sharing your love to the Odoms and to the Seagate Baptist Church Family.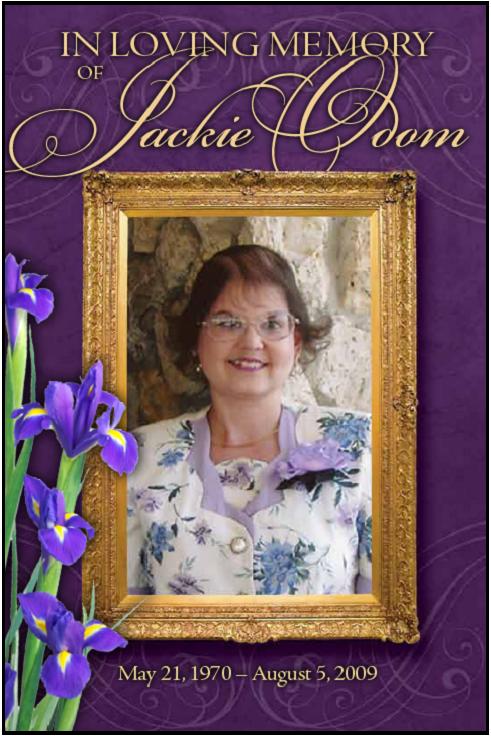 The Odoms and the Wiggins would like to extend their heartfelt appreciation to the members of Seagate Baptist Church who went above and beyond the call of duty in ministering to the family throughout Jackie's illness and funeral service. Seagate members are among the finest of Christians.
"For God is not unrighteous to forget your work and labour of love, which ye have shewed toward his name, in that ye have ministered to the saints, and do minister." - Hebrews 6:10
The Odom Family desires that the memory of Jackie's life and legacy of her healing be kept alive. She was a vessel unto honor who drew others closer to Jesus Christ.
The Jackie Odom Memorial scholarship has been established at Seagate Christian Schools from where Jackie graduated. She loved young people and wanted to see them serve the Lord with their lives, too. This scholarship will help families to afford Christian education for their children. Pastor and Lynda Odom have donated personally to this scholarship and believe it is one of the most important investments that can be made for eternity. You may donate to this fund by send a designated check to: Seagate Christian Schools ~ 1010 Whippoorwill Lane ~ Naples, Florida 34120
The Crown College in Knoxville, Tennessee, from where both of Jackie's siblings graduated, has also established the Jackie Odom Memorial in her honor. This scholarship will help Christian young ladies who desire to train at a Christian college to serve the Lord. You may send your designated donation to their college or may donate on-line through their website at
www.goforthecrown.com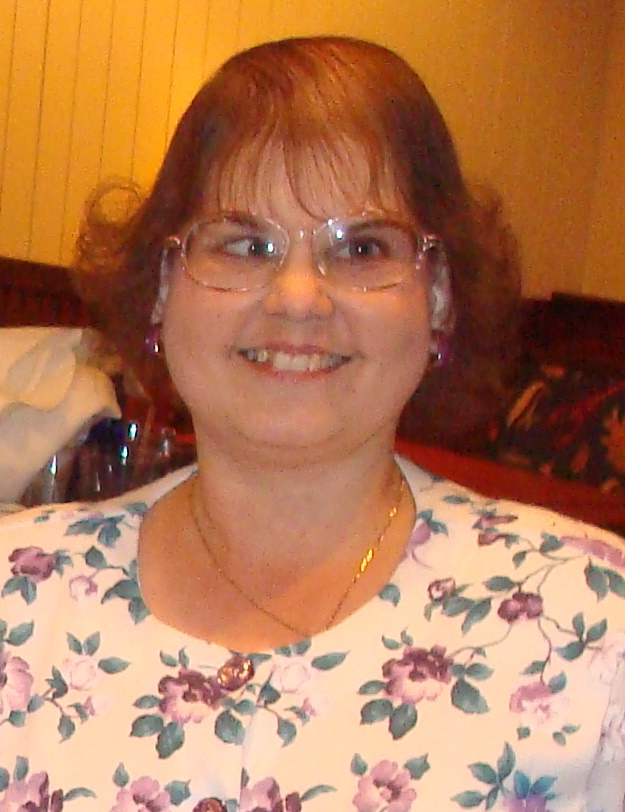 Pastor & Lynda's daughter, Jackie Odom has been healed and is in Heaven with Jesus
Precious in the sight of the LORD is the death of his saints. ~ Psalm 116:15
_________________________________________
In 1978, Jackie contracted a serious illness at age 8 and almost died. However, God touched her body and allowed her to live.
Then in 1979 at the age of 9, Jackie was diagnosed with a deadly form of cancer. Doctors gave her a prognosis of living 2 to 5 years maximum telling her that if she survived the surgery, she may never walk or talk again. It was then that Pastor & Mrs. Odom claimed Psalm 112:7, "He shall not be afraid of evil tidings: his heart is fixed, trusting in the LORD." She was given massive amounts of chemotherapy and radiation which almost took from her the remaining life she had. Preacher Odom claimed the verse above in Luke 8:50. God saw the prayers of faith from thousands of Christians and chose to raise her up with His healing hand.
Jackie overcame the statistics and obstacles and has become a beautiful lady serving the Lord and dearly loving her family and friends at church. God-willing, this October, Jackie will celebrate 30 years of being cancer free. She enjoys spending time with her nieces and nephew and shopping for gifts for her prayer pals. Also, she greatly enjoys being a greeter at church, singing in the choir, and helping in the children's ministries.
In 2005 Jackie suffered a stroke which doctors believed was caused by the treatment she had 30 years earlier. However, God had great plans and Jackie was healed. She worked hard to regain the ability to walk and practiced until she was able to speak and write clearly.
Now she has contracted a serious, life-threatening infection. Once again the statistics are grim. The outcome could be fatal, yet Jackie is fighting for her life in ICU and God is working. The family is willing to except whatever God's will holds for Jackie's future but is asking God to do another miracle. They are asking God to get the glory out of her healing and to allow her to return to serving Him. Those who know Jackie are confident that she will give God the glory, but God must see the faith of His children. Will you join with us in prayer and ask God to raise her up and touch her body? We will be careful to give God all the praise and glory.
Update ~
Today Jackie received a good report that showed slight improvement. Her body is still fighting infection and is struggling to work properly. She is receiving extreme amounts of medication. Please pray that God will continue to touch her, that there will be more improvement tomorrow, and that her organs (especially her lungs and kidneys) will withstand the infection. We are asking God to give the doctors wisdom in her treatment plan. God can do anything, and we are believing Him for her healing!
Update ~
Preacher and Lynda would like to thank you for all your prayers, calls and well wishes.
There was no improvement in Jackie's condition today. Some complications have now developed in the lungs and the kidneys. Doctors are still optimistic that she can make a full recovery and are doing everything they can to help her heal and be comfortable. The good news is that we know "The Great Physician" and we are believing God for a miracle. WE NEED A MIRACLE! Please continue to pray through the night. She is fighting for her life with each breath she takes. Jackie will have an important procedure done first thing in the morning and doctors are also hoping for a miracle. PLEASE PRAY!
Update ~
We can definitely see the hand of God answering the prayers of His people. Doctors tell us that Jackie reached her lowest point today. However, she is climbing back to being stable again. Also, the procedure she had this morning has been successful up to this time. We have been told that we are on an hour-to-hour basis, yet we are optimistic about her recovery. At 6:30 p.m. we will have a special prayer meeting, and we would ask you to join us in prayer from wherever you are. God is good...all the time. We are trusting that He knows what is best for Jackie. Thank you again for your prayers. People are asking what they can do for the family. At this time, prayers, e-mails, and cards are bringing great comfort and encouragement. Please keep it up!!
Update ~
Because Jackie had such a dramatic day, we decided to post again. God is hearing our prayers!! Tonight Jackie surpassed the goals set for her improvement. We asked the nurse when this happened and she said, and we quote, "Everything began to change between 6:30 and 7:00 p.m." What an awesome God! Also while we were talking about how well the day's procedure had gone, a supervisor told us that Jackie was put on a slow-working machine and that something else besides the machine had caused this unbelievable turn-around. Then he said, "The strange thing is that none of us who have been working on her case can explain it." Praise the Lord!! We know that only God could give us this miracle. We were able to witness for the Lord once again in that hospital ward. Psalm 118 says, "I will praise thee: for thou hast heard me, and art become my salvation. This is the LORD's doing; it is marvellous in our eyes." We thank the Lord for giving Jackie one more day to fight this illness and to allow God to receive the glory that only He deserves.
Update ~
As of this writing, Jackie remains unstable yet is improving. Doctors say that she was so low yesterday that we could only go up from here! We need your prayers now more than ever. Please pray that God will sustain HER LUNGS and cause them to heal. They tell us that we are heading for a solid week of extreme highs and lows. You can be so proud of your Pastor and his wife. They are handling this situation through God's amazing grace while being a bold witness for Christ. They also want you to remember that our staff stands ready to minister to you even as we go through this difficult time ourselves. Please do not hesitate to ask for anything that your family may need during this time. We are here for you, and we thank God that you are standing with us in our time of need. Seagate members and friends are among the finest Christians we know. God is working in our midst. Psalm 27:14, "Wait on the LORD: be of good courage, and he shall strengthen thine heart: wait, I say, on the LORD." Mrs. Odom, who has also been very sick, is feeling better and asks that everyone continues to pray for her and for the Preacher to have added health and strength.
Update ~
Yesterday the doctor gave grim statistics. Yet, at the end of the day, he said, "I really like it when I'm wrong." So, after several days of no improvement in the lungs, we received our first good report that Jackie's lungs have improved somewhat. Nurses have been weaning her off of her dependence upon the machines and medications and she is finally responding well to that process. The kidney machine has relieved a great amount of fluid which doctors believe is helping her body to work properly. Because she is still in critical condition, there is still a chance that she could have complications and setbacks. Yet, we are believing God for her healing!! Please pray that God will continue to allow the lungs to clear, her kidneys to begin to work full power, and her blood pressure/vital signs to maintain good levels. We would like to thank you again for your many kind words through e-mail, text messages, phone calls and cards. Your prayers are working and God is showing Himself real to all. I Samuel 12:16 says, "Now therefore stand and see this great thing, which the Lord will do before your eyes."
Update ~
We received a good report that there was slight improvement in Jackie's lungs again today. However, a complication has developed, and we are asking God to give the doctors wisdom as they treat this. Also, there will be a procedure done if tomorrow's report of the lungs does not show improvement. Please pray that Jackie's lungs will improve throughout the night and this procedure will not be necessary. The doctor has said that Jackie is requiring less care from him and that is a good thing. We praise the Lord for small miracles. Also, they have taken her off all blood pressure medicine and she is responding with good levels. We thank the Lord for that! Another praise is that her kidneys are showing improvement and they plan to decrease the machine levels tomorrow. Jackie is still very, very sick and needs God healing power. We thank Him for what He has done already both in her body and through her testimony to others. Romans 8:18 says, "For I reckon that the sufferings of this present time are not worthy to be compared with the glory which shall be revealed in us." Jackie has given God the glory continually for His touch on her life. We know that we are not worthy of God's favor or His mercy, but we thank God that He has shown His love and grace to us in a special way during this past week. Please keep praying that God will do another miracle as He heals Jackie! Thank you for caring and for the compassion that you have shown towards the Odom family.
Update ~
Today has been another positive day. A procedure was done to take care of the complication and all has gone smoothly so far. The doctor reported that her lungs have improved again today and the procedure on the lungs is not needed at this time. Praise the Lord! Jackie's infection in the lungs is very bad, so we still have farther to go...but we will take each report of "better" as a good sign! God must be hearing many prayers of faith from all of Jackie's friends and family. Please continue to pray that tomorrow's report of the lungs will be better yet again! Tomorrow they will decrease the frequency levels of the kidney machine. Praise the Lord! Jackie is holding her own and continuing to fight for her life. There must be more work she wants to do for Him! Many of you have told us that she is always on your mind, and you are praying for her continually. What a great comfort! We thank God that Christians are encouraging us in the Lord. Also, we find our daily strength from God's Word and we claim each promise by faith for Jackie's healing. Psalm 119:49-50 says, "Remember the word unto thy servant, upon which thou hast caused me to hope. This is my comfort in my affliction: for thy word hath quickened me." Please keep the e-mails coming. We love you!
Update ~
We did not get any good news today from the doctor who reports on Jackie's overall condition. Yet, today she did well with her new kidney procedure, her blood insulin level is very good so medication is no longer needed, and she is holding her own. We praise the Lord for that! Even though her lungs did not improve today, they did not get worse either. We thank the Lord for that! We need you to lift up Jackie to the Lord once again and ask God to heal her lungs and remove the infection that doctors cannot find and medication has not touched. We serve a God Who can do anything! God wants to see our faith. His ways are above our ways, so we will trust Him. We will wait, and God will work. He has already touched Jackie. The doctor said today that others would have already succumbed to this illness. We know that God is working even though we cannot always see or understand all that He is doing. We want God to receive the glory for Jackie's healing! God is using this illness to draw those in Jackie's life to Himself. We pray that you will realize, as we have so many times, Christ is all you need! "Behold, I am the Lord, the God of all flesh: is there any thing too hard for me?" - Jeremiah 32:27
Update ~
Jackie is scheduled to have a procedure done today to find out what is preventing the lungs from improving. There are risks to having this done, but we are trusting God to guide the doctor's hands with precision and speed. We cannot move ahead until this is done. Please pray in a special way that the procedure will go well and results will be conclusive. We need to know exactly what is wrong so correct treatment can be given. We appreciate your prayers. Because of the nature of this update, we will include another daily update tonight after the procedure. PLEASE PRAY FOR JACKIE!!! We know you are praying continually and God is hearing your prayers. The Bible says that the effectual fervent prayer of a righteous man availeth much.
Jackie's procedure went very well without any known complications. Lord-willing, we will have the results soon which will help doctors to treat her more effectively. Thank you for all your prayers. God is holding her hand and leading her in the paths of righteous for His name's sake. We thank God for this forward step in Jackie's progress. Please continue to pray that her lungs will improve and she will be spared from the usual complications which come from being in critical care.
Update ~
What a relief to have a good day with Jackie after such a long weekend of uneasiness. The nurse was excited about her progress and the doctor was amazed that this is the same patient with whom he has worked all week. However, we must remember that Jackie is still very ill and has quite a long road ahead of her. Lord-willing, we will find out tomorrow what is necessary to help her progress even more. We would like to praise the Lord for the great services we had today at Seagate. Our church has come together once again to believe God for a miracle for another one of our loved ones. We have seen God's hand at work through this entire process, and we know that He is blessing our faith. We would also like to thank our extended family members and family in Christ who are praying all over the country and on foreign fields for Jackie's healing. We are believing God, and He is proving Himself real to all who are seeking His face. We would like for Jackie's testimony to encourage you to trust God for the things that you are facing in your own life. She would want her life's verse to inspire you to believe that "I can do all things through Christ which strengtheneth me." (Philippians 4:13) Even though we do not know what we will face this week, we know that God holds tomorrow and we know that He is holding our hand!! Please keep praying!
Update ~
Jackie is holding her own, and we are so thankful that she is fighting this illness to the best of her ability. Today was another day to wait and see how she was going to do. Also, we are still waiting on test results, so there are things that we would like to see improve. Overall she did maintain satisfactory levels throughout the day on her vital signs. Please pray that her lungs will heal and that her breathing will improve more rapidly. The quicker she heals, the less chance there will be for further complications. When someone you love is ill, the waiting process can be very difficult to endure, yet the Bible teaches us what to do while we wait. One such principle is found in Psalm, "Be still, and know that I am God." Another is found in Isaiah 40:31, "But they that wait upon the Lord shall renew their strength; they shall mount up with wings as eagles; they shall run, and not be weary; and they shall walk, and not faint." We know you love Jackie and are praying. Please continue to do so! She needs your prayers and so does her family!
Update ~
Jackie is in a very critical state right now. We are asking everyone to pray in a special way for the next few hours. Her body is not responding like it should. There are signs that she can hear us, and we have received great comfort in that. She knows we all love her and thousands of people are praying for her. Please continue to pray and believe God for another miracle! We will update as soon as we can. Thank you for praying continually! God can do anything!
Jackie had a difficult day but seems to be holding her own again. We do not know how this setback will affect her progress but we are trusting the Lord for her continued healing. We know that God's way is best and we trust Him for the outcome of Jackie's illness. Please continue to ask the Lord to touch her lungs. This is what she needs the most. Psalm 73 says, "My flesh and my heart faileth: but God is the strength of my heart, and my portion for ever. But it is good for me to draw near to God: I have put my trust in the LORD God, that I may declare all thy works." Please pray that God will continue to receive the glory for what is happening in Jackie's life. We love Him and praise Him for His goodness even in our most difficult days.
Update ~ (08/05/09)
God has chosen to heal Jackie completely!!! She is in the presence of Jesus right now beholding His lovely face! Jackie is completely whole and well and happy! The Bible says, "to be absent from the body is to be present with the Lord." There were complications with Jackie's condition and doctors did everything they could to save her. Jackie fought until her last breath to do her very best for the Lord. We know that God has chosen what is best for Jackie and for our family. He has been better to us than we could ever deserve. If we could speak to her now, she would never choose to come back to us. But what she would want is for all who loved her to be with her in Heaven. Some may think Jackie is with Jesus because she was a sweet person or because she has been through so much. Yet, when she arrived on Heaven's shores, she came no other way but through the shed blood of Jesus Christ. You see when Jackie was a child, she placed her faith and trust in Jesus Christ and in Him alone for her salvation. Jackie was a preacher's kid, but that did not get her to Heaven. She lived a good life and went to church, but that did not get her into Heaven. She realized she was a sinner (Romans 3:23, For all have sinned and come short of the glory of God), she read in God's Word that sin must be paid for (Romans 6:23, For the wages of sin is death...), and realized that Jesus had taken her place on the Cross, took the punishment of Hell for her, and paid for her sins (...but the gift of God is eternal life through Jesus Christ our Lord.) Then she asked Jesus to forgive and cleanse her of her sins. (Romans 10:13, For whosoever shall call upon the name of the Lord shall be saved.) She accepted the free gift of God which was Jesus Christ on the cross. She lived the rest of her life in child-like faith that God had saved her and healed her and one day would allow her to be in Heaven with Him not because of her own merit but because of God's Son, Jesus Christ.
We have confidence to say that Jackie's greatest desire through all of this would be two-fold. First, that all would be sure that they were saved and going to Heaven, not through religion or good works but through the precious blood of Jesus Christ, His burial and His resurrection. Second, that all who have trusted Christ and are saved would live for Christ. She prayed for so many of you dear people who are reading this. She prayed for you to be saved, for your families to serve the Lord, for marriages to be strong, and for people to find the true joy that comes from serving the Lord. She embodied the miracles that can only come from God's own hand. One day we who know the Lord will see her again soon in Heaven, and we cannot wait!! Heaven is even sweeter now that another loved one is there waiting for us. Because Jesus rose from the grave, we have victory over death, Hell and the grave! "We sorrow not, even as others which have no hope." Our hope is in the LORD!
We will post more news as it comes available about the funeral service. We are planned a wonderful service that will lift up the name of the Lord and give Him the glory for allowing Jackie to live as a testimony to the miracles of God. May God bless you with His great comfort, may He show Himself real to you, and may you accept His unconditional love. God is once again drawing us unto Himself and we know that "the LORD gave, and the LORD hath taketh away; blessed be the name of the LORD." Thank you for your great love for our family. You have been a great source of encouragement. We must be strong and rest in the truths of God's Word. We are looking forward to a great time in God's house tonight. The work of the Lord goes on and now we have another cheerleader in Heaven rooting us on to live for Christ, to point others to the Saviour, and to give God the glory, great things He hath done!
Update ~
Many precious people have asked what they can do for the Pastor's family. Of course, we need your prayers. We would also love to have people write about how God used Jackie's life to be a blessing to them. Sharing with us funny memories with her or how she gave out her special candy, or jokes she told would encourage our hearts in the Lord. This would especially be helpful to Mrs. Odom who was not only her devoted mother but her full-time (24/7) caregiver. Another encouraging thing you can do is to send Scripture verses that God has given you in your life which will bring comfort to our hearts. Please feel free to e-mail these thoughts or send them to our church office. We love you and appreciate all that you are doing to share God's love with our family.
You may send loving messages to the Odom family at
[email protected]